Payment & Security
Your payment information is processed securely. We do not store credit card details nor have access to your credit card information.
Description
Specifications:
Material: PU leather
Quantity: 1-Piece

Dimensions (Approx.):
Regular: 10.24" x 9.06" x 4.33" (26 x 23 x 11cm)
Large: 14.57 x 10.43 x 4.92" (37 x 26.5 x 12.5cm)
Creating a space that feels like home helps set the tone for how you enjoy everyday moments.

But it can be hard when every single piece feels like an investment.

That's why Izzy Rosenzweig created Browze, a home and kitchen retailer that allows everyone to access direct from factory pricing.
At Browze, we are dedicated to individually sourcing high-value pieces directly from factories and shipping them directly to your home. 
Check out our recent awards for our incredible Customer Service team!
The Stevie Awards - Silver Stevie® Award in the Customer Service Department of the Year category, in 2021🥈
Titan Awards - Gold Titan Business Award for the Customer Service Category, in 2021 🥇
Customer Reviews
Write a Review
Ask a Question
09/18/2023
Patty F.

United States
Cosmetic case with mirror
I absolutely LOVE it. We are full time RV' ers and this is perfect. Thank you so much.
08/16/2023
Jeannie H.

United States
Best case ever
Fantastic product. Great design. Lots of room. Fabulous for travel.
08/10/2023
Nancy A.

United States
Great, my first make-up mirror was broken. You sent me another one asap. Thank you !!
07/30/2023
Sherrill A.

United States
Love it!
Just got it. Haven't used it yet
07/20/2023
Judith L.

United States
Makeup Case
Perfect for travel. This is the smaller bag and it easily accommodates all of my makeup supplies and brushes. Bought one as a gift also. Quite pleased with the product.
07/19/2023
Donna F.

United States
Nice case
Nice case but too small for all my stuff. I should have ordered the larger case.
07/17/2023
Gaytha P.

United States
Cosmetic case with LED mirror
Easy to order. Item as described. Good communication and on time delivery
07/08/2023
Angela K.

United States
Beautiful
I love it. Have always wanted a cosmetic bag. This one is perfect. I ordered the large.
07/07/2023
michelle p.

United States
makeup case
Great!! Love my makeup case
06/28/2023
Ellen K.

United States
Make-up case
The case is a gift for my niece. She has not seen it yet. But I think it looks beautiful.
06/22/2023
Jamie C.

United States
Love it
This is exactly what I was looking for! It's nicely made and the mirror makes doing my make up so much easier when I'm traveling. I am very happy with this purchase!
06/09/2023
Susan H.

United States
Not well packaged
Item came wrapped well in foam sheets but placed in a bag. When arrived the mirror was completely shattered. Needs a box no doubt! Customer Service was helpful and prompt and offered a replacement. Unfortunately it will take 3-5 weeks to arrive. Ugh!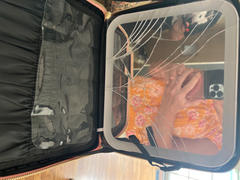 06/10/2023
Browze Factory
We are so sorry to hear that it arrived damaged. We will send a follow-up regarding your replacement ASAP. Please email us at support@browze.com if you have any other concerns.
05/30/2023
D M.

United States
cosmetic case
The recipient of the case, really likes it. They have not begun to use it yet hopefully be durable and useful.
03/10/2023
Cara J.

United States
BEAUTIFUL PRODUCT
I keep getting the wrong color sent to me but customer service is great!
03/02/2023
Cara J.

United States
Love it!
Great customer service! I was sent the wrong color and they took care of it right away!! This case is beautiful!!
07/24/2023
Tina S.

United States
F
Fantastic love my new make up case
07/25/2023
Browze Factory
We are so happy to hear that!